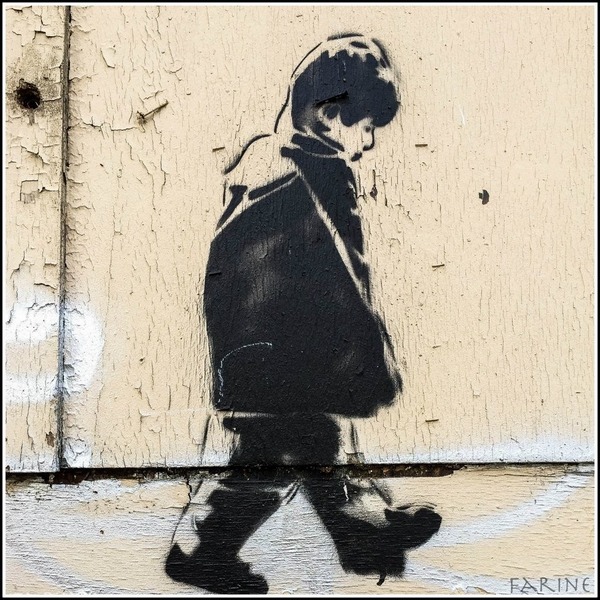 It has been three years since our grandson Noah was killed in what is now referred to, sadly, as the Sandy Hook shooting. Three years. The grief and shock are not letting up. I have spoken with other survivors. They say it does not get better. You find a way to live with the pain, that's all. Some days are easier than others. But the loss is there, unyielding, massive, like a rock in the middle of a rushing river. Time is now divided in a before and an after. It no longer flows smoothly.

I miss Noah everyday even though I didn't see him everyday when he was alive. We lived on opposite coasts but we had the phone, Skype, trips, summer vacations, plans for the future. The simple joy of knowing that he was in the world. Like his siblings and his cousins.
I didn't know it then but it was the age of innocence.
When I was little, my grand-parents lived in a big boxy house in Normandy. The yard was huge and there were several outbuildings. The closest one to the house featured an ancient wood-fired cookstove. My grandmother favored that old stove over the modern one in her kitchen. So my grandfather stoked it all winter, maybe even year-round. I liked hanging out near the door, out of the way. The air was rich with the smell of simmering soups but what I liked best was watching my grandma turn the knob on the little faucet that stuck out in front.  Water hissed, steaming hot, into the waiting pot. An urban child used to a gas range, I couldn't figure out where it was coming from. Like a sorcerer's caldron, it was magic.
Having grandchildren is magic too. You may not see them every day or even every week or month. But love simmers on regardless and it pours out hot and fierce.
So I had Noah on  my mind, as I always do, when I spied the above stencil on a wall in Paris last May. It didn't occur to me to jot down the exact location. We had been walking out and about for a couple of hours already and I think we were in Belleville or close to it. I took the picture and stood there, staring.
That little boy was Noah. No doubt about it. But how could it be? To the best of my knowledge there existed no such photo of him. Yet he was the little boy in the stencil. Same silhouette, same hair, same profile, same posture. Pure Noah. Absorbed in his thoughts. A dark-haired Little Prince.
I sent the picture to my daughter. We googled it.  The same piece had appeared on city walls in Berlin, in Stavanger, in Istanbul. At first I couldn't discover the name of the artist. But I wanted to secure permission to post the picture, so I tried again. The other day I finally found a clue. It led me to Icy and Sot, two brothers, stencil artists from Iran currently living in Brooklyn, NY. I wrote to them and they kindly gave me leave to use the image. Thank you, Icy and Sot.
I asked what their inspiration for the art had been. They wrote back: "We made the Walking Alone stencil for the first time about six years ago in Iran. Since then wherever we travel we always put that up, it is our signature piece. I think the inspiration came from that sometimes we felt like a kid that is not paying attention to what's happening around him in this crazy world or he is sad because of that and some time he is just reflective as innocent kid."
It fits. Noah had his ebullient moods but he also had deeply thoughtful moments. I will never forget his pensive eyes the last time I saw him, a few days before the shooting. We were on Skype and he stared at me for a long time without saying a word. I remember something gripping my heart.
I had no premonition though. None.
Noah was three when Icy and Sot created the stencil. The little boy they portrayed looks like he could be six. Noah had just turned six when he was killed.
I don't understand how Icy and Sot came up with Noah's likeness six years ago. But they did.
Neither do I know what guided our steps to that quiet Parisian street last spring. But something did.
I'll leave it at that. There is much we don't understand or know about the world.
Another gift came my way unexpectedly only a few days ago. Joe Quint, an NYC-based photographer, has interviewed educators who were present at the school on the day of the shooting. He put together a video, Love and Strength: Memories of December 14th, 2012 and posted the link. Thank  you, Joe.
Listening to these women felt like walking on hallowed ground. By the time the screen went blank, I had understood something that until that day I had only known.
Yes, Noah, 19 other kids and six educators lost their lives on December 14th three years ago. But many others were saved, among them Noah's two sisters, our grand-daughters.
Were it not for these women, their courage in the face of horrific violence, their dedication to their job and their love for their students, we might be mourning the girls as well, and with them, dozens of other innocents. Our debt is immense. "Thank you" doesn't even begin to express our gratitude.
On Monday as night falls I will light a candle for Noah and place it in the window as I do every year. But this year for the first time, I will also light one for each of the girls.
One flame of sorrow, two flames of joy. Maybe darkness will recede a bit.