Italian crackers: Parmesan, Fennel & Olive Oil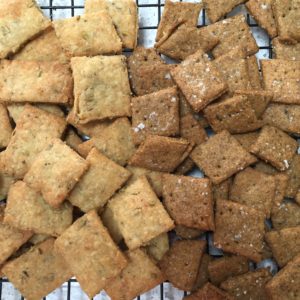 Author:
Adapted from Edda Onorato (Un déjeuner de soleil)
100 g all-purpose flour
100 g wholewheat flour
60 g grated parmesan cheese
16 g fennel seeds
86 g extra-virgin olive oil
62 g cold water
coarse sea salt
pepper
Mix the flours, add the parmesan cheese, the olive oil and the fennel seeds. Add pepper to taste and add water until the dough is homogenous.
Shape in a ball, wrap in plastic film and refrigerate for one hour.
Preheat over to 350°F. Roll out the dough to a thickness of about 3-4 mm. Cut out as desired (with cookie cutter or with knife).
Dust with coarse salt. Arrange on a parchment-paper covered baking tray and bake for about 15 min. The crackers must become blonde.
Cool on a rack.
- I doubled the proportions in the original recipe.
- Having no access to T80 flour, I replaced it with Blanco Grande wholewheat flour from Coke Farm in San Juan Bautista which I buy at my local Farmers Market.
- Maybe because the flours were different or because I used more olive oil than Edda (always a possibility when working with volumes instead of weight), I used only about half the water she did.
- You can't see the coarse sea salt on the picture because I actually forgot to add it!
Recipe by
Farine
at http://www.farine-mc.com/2016/05/italian-crackers-50-whole-wheat-with-parmesan-cheese-fennel-and-olive-oil.html